I have been building wooden model ships when the weather does not permit shooting, cycling or diving.

My first build was the Bounty Launch.

After the mutiny on the Bounty, Captain Bligh and 18 crew members given the 23 foot launch to sail the 30 miles to Tofua, which turned out to be inhospitable (one crewman was killed by the natives). In a now legendary feat of seamanship, Bligh then navigated the heavily overloaded open launch on a 47-day voyage to Timor in the Dutch East Indies. Equipped with a quadrant and a pocket watch and with no charts or compass, he recorded the distance as 3,618 nautical miles.

It took about two months in the summer of 2009. It is a plank-on-frame model, 17 inches long and 15 inches high.
Click on the picture for larger, more detailed pictures. (Credit to Maryalice for the sails.)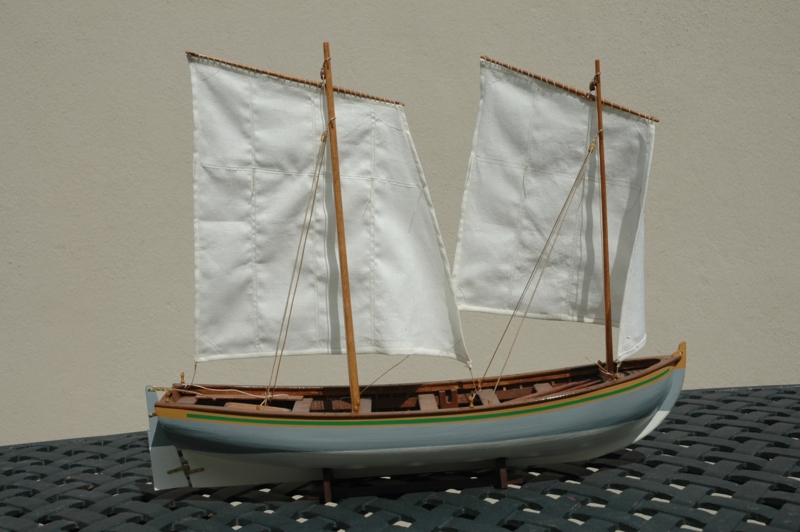 My second model was the Canadian fishing schooner Bluenose. This model is plank-on-bulkhead, 33 inches long and 27 inches high. It took from September 2009 to May 2011.
Click on the picture for larger, more detailed pictures. (Credit to Maryalice for the sails.)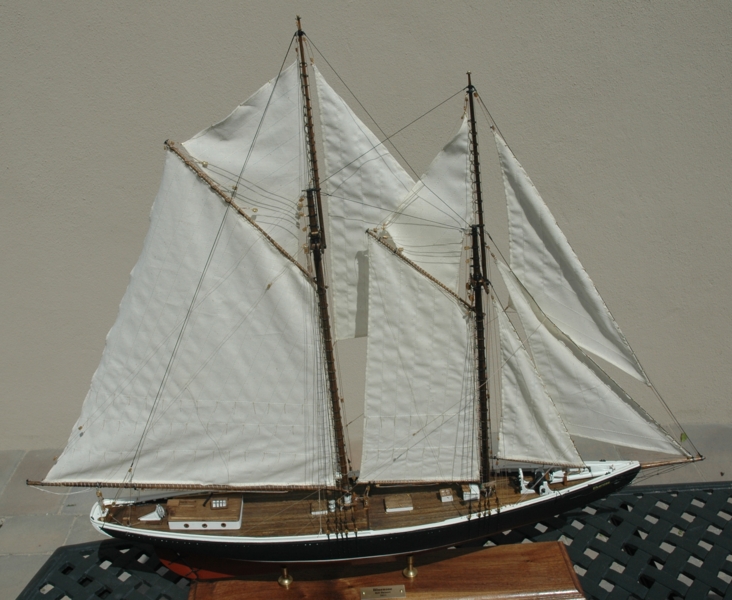 My next model (2011) was the pirate ship Black Pearl (or an approximation thereof) for my son-in-law. Stephen. 27 inches long.
Click on the picture for larger, more detailed pictures. (Credit to Maryalice for the sails.)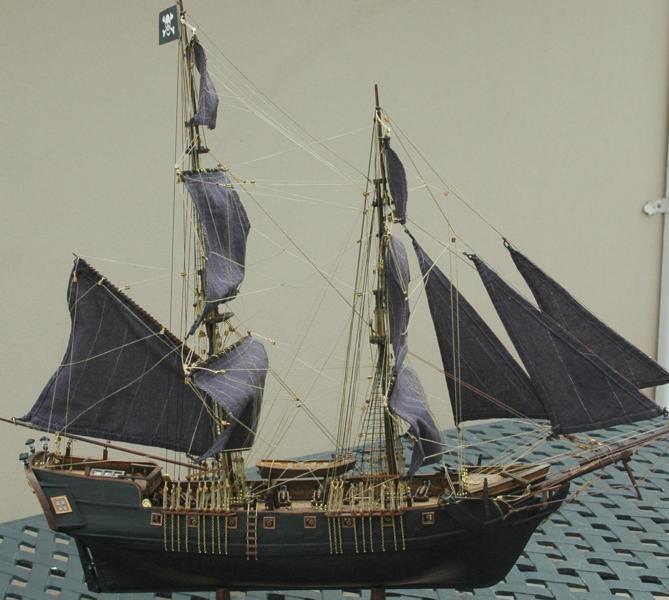 Tiring of rigging, I built a paddle wheel river boat in 2012. 35 inches long.
The steam packet Chaperon was built for trade traffic at Chambersburg, Ohio in 1884. At that time river shipping was inexpensive. A bushel of coal was carried from Pittsburgh to New Orleans for the price of a first class postage stamp. But, the Ohio River was shallow during the summer and often choked by ice in the winter. This made steamboat travel seasonal and delays frequent.


Click on the picture for larger, more detailed pictures.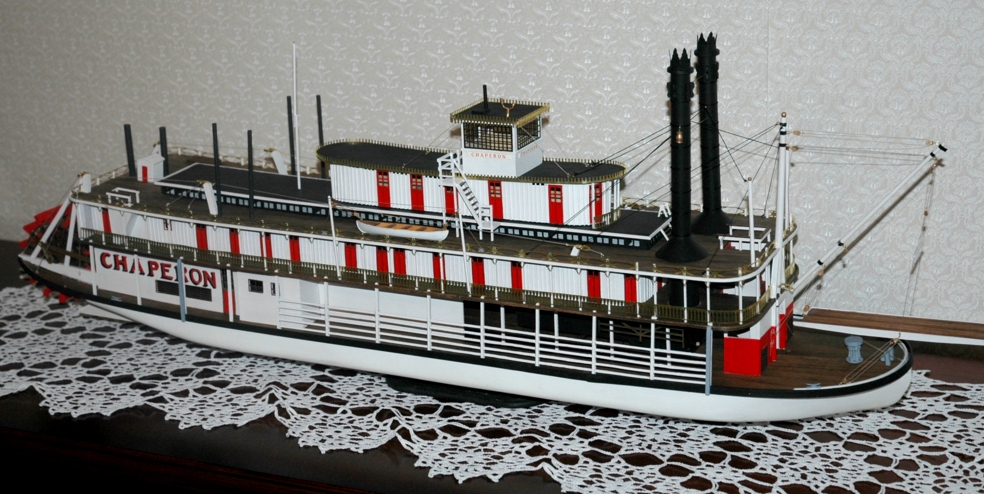 2013 - 2016: back to sailing vessels. Donald McKay, one of the greatest designers of his time, built the Flying Fish in 1851 at East Boston Massachusetts. Flying Fish was registered at the Boston Custom House as a ship of 1,505 tons, with a hull length of 207 feet, and a beam of 22 feet. She sailed from New York to San Francisco in 92 days - only three days short of the record set by her sister ship, the Flying Cloud.
Length 36"/ Height 22-1/2"/ Scale 1/8" =1 ft. (1:96)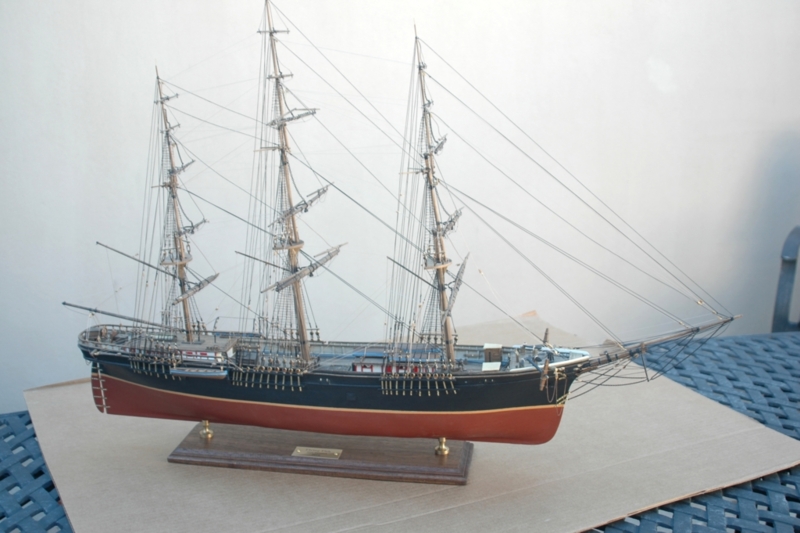 Once again tiring of rigging, I thought the stage coach would be a quick and easy build. It did not take all that long, but was trickier than I expected. 2018.
The Abbott Downing Company of Concord, New Hampshire built its first stagecoach in 1827. These coaches were used for passenger and mail service between St. Louis and San Francisco. Abbott produced coaches for both Wells Fargo and Butterfield Overland Stage companies. Weighing over two tons, the coaches were solidly built. The bodies rested on leather thorough braces - not for the passengers' comfort, but to prevent injury to the horses. The wheels were made of seasoned white oak to withstand the heat and the cold. Leather "boots" front and back held mail sacks and luggage. The interior was just over 4' wide and 4-1/2' high. Three benches provided seating for nine passengers. They traveled day and night, suffering from choking dust and stifling heat in the summer, intense cold in the winter, and the ever-present threat of robbers and hostile Indians. After completing the 2,812-mile journey, one newspaper correspondent wrote, "Had I not just come out over the route, I would be perfectly willing to go back, but I now know what hell is like. I've just had 24 days of it."

Click on the picture for larger, more detailed pictures.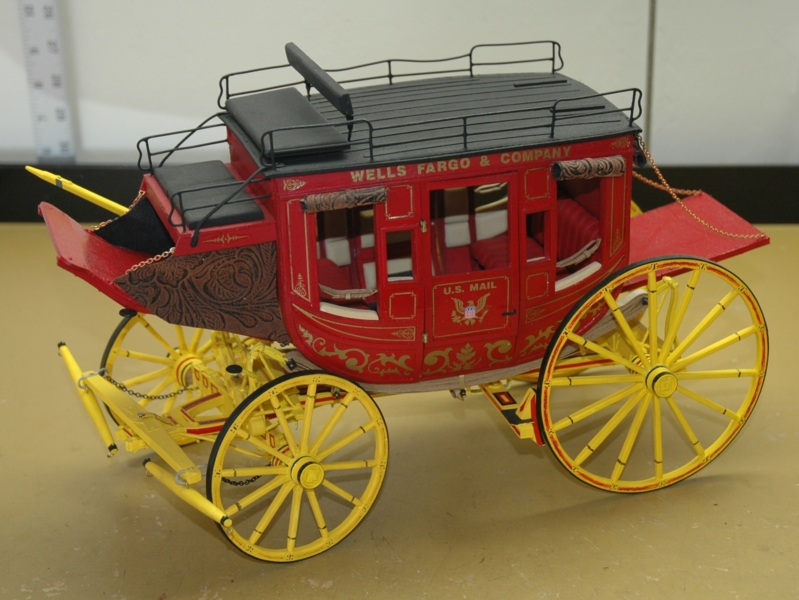 2016 - 2021: back to sailing vessels. The most advanced model I have attempted. The USS Constitution "Old Ironsides". Incredible level of detail, which is why it took 600 days over 6 years (time out while we moved).
Launched on October 21, 1797, the USS Constitution has won every battle she's ever fought - over 40 of them! She earned her nickname Old Ironsides after a sailor saw a cannonball bounce off her hull. Resting in Boston Harbor, she's the oldest commissioned US warship. USS Constitution went through several restorations during her career. A major restoration between 1993 and 1997 prepared the frigate for her 200th anniversary. Workers restored the thick deck strakes and diagonal riders to strengthen the hull and make her seaworthy. They fitted fore, main and mizzen topsails, jib, flying jib, and spanker sails for the day when "Old Ironsides" would move under her own power once more. That historic moment arrived on July 21, 1997, when Constitution set sail from Marblehead Harbor to a point just one mile short of Halfway Rock. The five-mile cruise took one hour.

Length 48" / Height 32" / Width 16" / Scale 5/32" = 1 ft. (1:76 Scale)

Click on the picture for larger, more detailed pictures.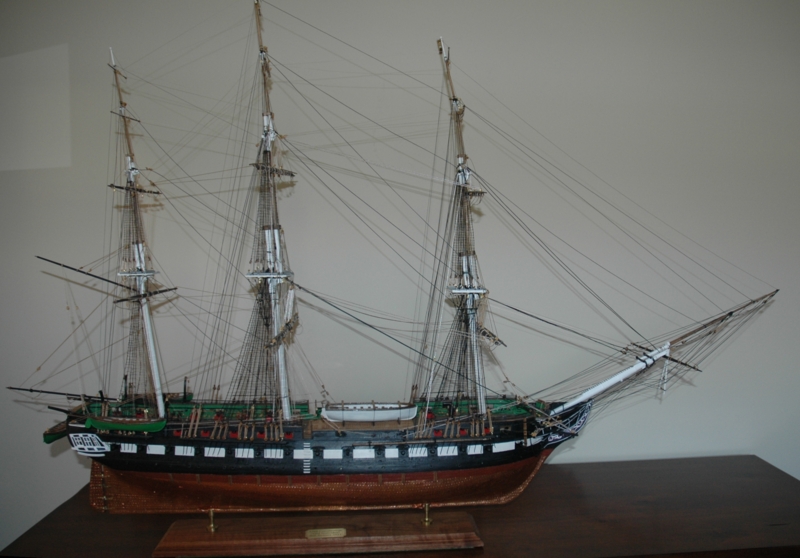 copyright &copy 2012